The page may not load correctly.
Dr.Web Link Checker

for Firefox
After opening the link, you will see an installation dialogue providing you with "Cancel" and "Install now" buttons. Click on "Install now" and restart the browser. The extension is now installed. Prior to installation check to be sure that the installation of extensions has been enabled in your browser's settings. Open Tools > Web features, and make sure that the "Allow web sites to install software" option has been checked.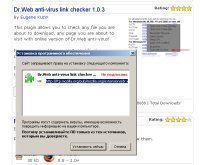 In the Tools menu, select Extensions. A window will appear, displaying a list of installed add-ons. Select Dr.Web Linkchecker and click "Uninstall."

© Doctor Web
2003 — 2022
Doctor Web is a Russian cybersecurity company focused on threat detection, prevention and response technologies.