Download the Dr.Web LiveDisk image.
Write the image onto a CD/DVD. If you use Nero Burning ROM, follow these steps:

Insert a blank CD/DVD into the CD/DVD burner;
Go to the File menu and select Open;
Navigate to the saved image file and select it;
Press Burn and wait for the burning process to complete.

Turn on or restart the computer. As soon as loading begins, insert the disk containing

Dr.Web LiveDisk

into the drive.
Make sure that the CD/DVD drive with

Dr.Web LiveDisk

(or any other device on which

Dr.Web LiveDisk

has been recorded) is set as the first boot device. Adjust the corresponding BIOS settings, if necessary.

When booting from

Dr.Web LiveDisk

, you will see a dialogue window prompting you to choose the boot mode.

To launch Dr.Web LiveDisk, use the arrow keys to select Dr.Web LiveDisk and press ENTER.

To boot Dr.Web LiveDisk in advanced mode, select Options and specify the mode you need.

Select Start Local HDD if you want to boot from the hard drive instead of Dr.Web LiveDisk.

Select Testing Memory to launch the Memtest86+ utility.

During the boot, the program will configure your system according to the hardware found. Dr.Web LiveDisk will automatically detect and mount all the partitions on your hard drive and set up a connection to the network, if possible.
Once Dr.Web LiveDisk is finished booting up, the Dr.Web CureIt! scanner will automatically be launched, and the License and upgrades window will open.
Attention! Check whether your Dr.Web LiveDisk is current and, if necessary, update the virus databases.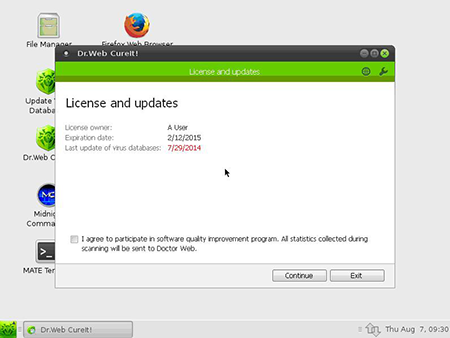 To select scanning mode, click Continue.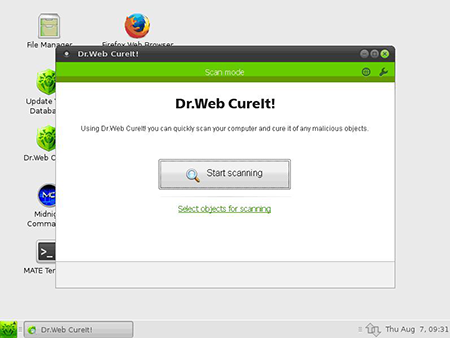 To run a quick scan, press Start scanning. If necessary, select the scan settings.
The utilities that are available to you when you press this button

let you configure the graphical shell of Dr.Web LiveDisk and the settings for connecting to the LAN and Internet.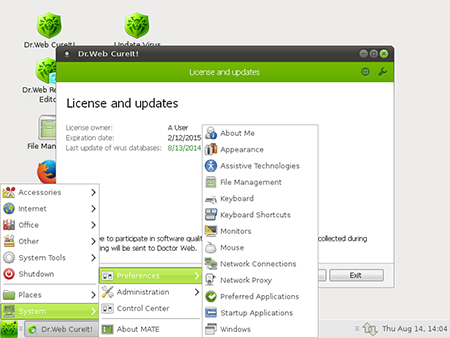 You can search and copy important information with the Midnight Commander

file manager.
More information about Dr.Web LiveDisk can be found in the product documentation.